Secure and Protect Your Firearms with Lockdown
The Lockdown puck can help keep your guns safe and in good shape.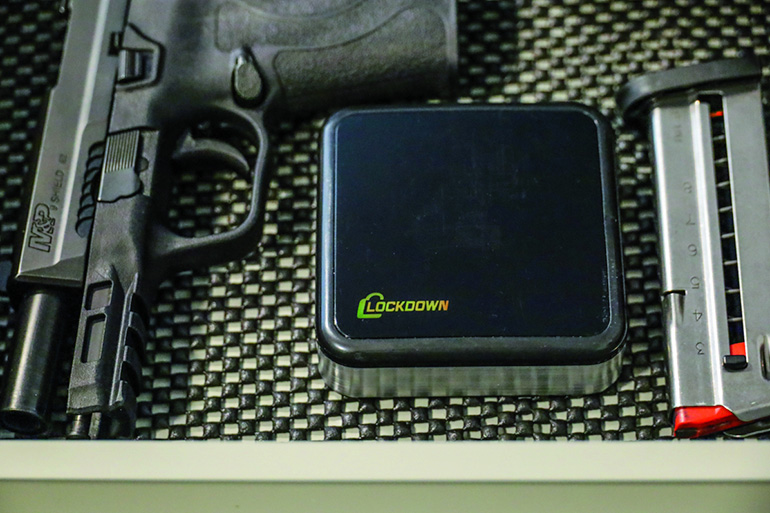 January 21, 2021By Brad Fitzpatrick
Lockdown is known for offering a variety of innovative, user-friendly products for firearms owners, but the company has raised the bar with its new Puck. On the surface, the Puck looks rather unexceptional. It's a small plastic square with magnets on the rear side and a trio of air vents. But this device's capabilities seem almost endless. Most importantly, the Puck is a critical tool that helps you protect your firearms and valuables even when you're away from home.
How does it work? Good question, but you won't find an instruction manual in the box. Instead, once you download the free Lockdown Logic app and set up an account, it will walk you through the entire process. Before you balk at what you think might be overwhelming technology, the Lockdown app isn't complicated. Can you turn on your TV remote? If so, you can probably run Puck.
Once you set up your account, the Lockdown Logic app will begin by prompting you to attach to the wi-fi network to begin the process. The Puck connects to your home wireless internet, and that allows it to send messages to you via the app.
What type of messages does it send? Well, it can tell you when someone has opened the door of your safe, toolbox or gun cabinet. Not only is the Puck capable of sounding an alarm, but also it sends you a notification on your cell phone that someone is rifling through your things.
How does it know? There's a magnetic sensor that detects movement, and when that occurs, you get the alarm call. For that reason alone Puck is worth owning, because guns are valuable and highly sought-after by criminals, and having a warning beacon that alerts you might be the key to stopping someone from lifting a lifetime's worth of guns.
For that matter, Puck will lockdown a wide variety of items. Whether you have a lot of guns, a lot of tools, or simply keep cash in your home, it's good to have an e-nanny in place to alert you when someone is snooping where they don't belong.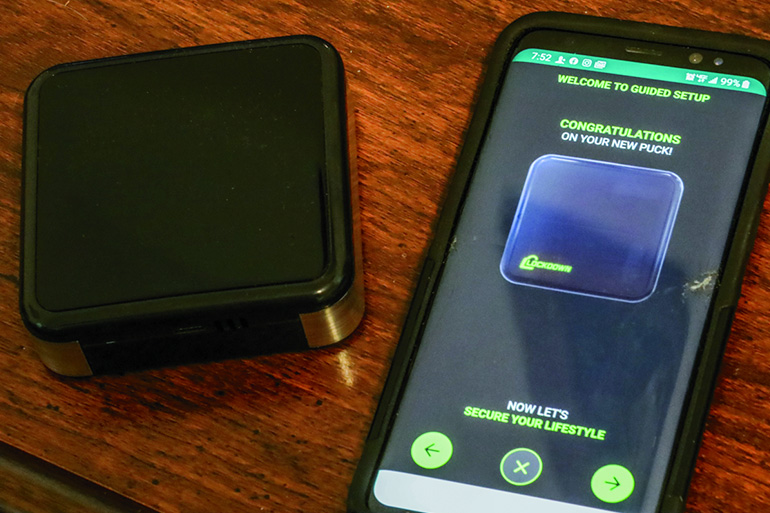 This is just one of the Puck's many capabilities. It's also capable of monitoring humidity levels and alerting you if they deviate from a range that you preset in the app. When moisture levels rise too high, they can cause rust, issues with wooden stocks, and all sorts of other problems. What's more, the Puck alerts you to changes in temperature.
The Puck is a simple way to guard your guns, and the app is extremely simple and user-friendly. Of course, it comes with all the essential accessories: four AA batteries to power the unit or as backup power; a USB cable for hooking into a continuous power supply for unlimited monitoring; and an adjustable door magnet that alerts the unit when there's vibrations or a door opening. There's also a metal mounting racket to hold the Puck if you don't want to use the attached magnets or double-sided tape.
My gun room is located underground, and as a result I must constantly monitor moisture. I could plug in a dehumidifier, but I may not know if the unit stops working, and if I return from a week's vacation to find all my guns rusted, I'd be more than a little miffed. Until now the best option was to call a friend or family member to poke their heads into your gun safe, but Puck monitors moisture levels thanks to three small vents.
What's more, I am afraid of fire when using a dehumidifier. Puck will also let me know if there's a problem because the temperature sensor alerts me via my cell phone.
Setup was, as mentioned, a snap. I could use the magnets to place the Puck unit inside my gun safe or the drawers in my office, and while the mounting bracket is a nice addition, I simply attached the Puck wherever I needed it using the magnets. That's easily done because it's just one inch deep and 3 1/8 x 3 1/8 inches wide and weighs under seven ounces.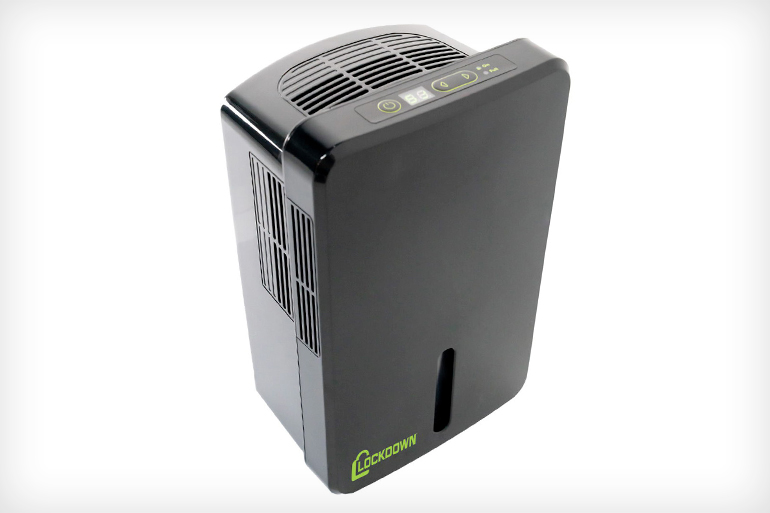 I used the Puck in conjunction with Lockdown's 400-milliliter automatic dehumidifier, which is small enough to fit in a gun safe and offers a drain option or auto shutoff when the tank fills. It was easy to operate; simply turn it on and use the arrow keys to set the desired humidity level. The unit runs (quietly, I might add) until the tank is full or the desired humidity level is reached.
To set the Puck simply press the screen. The countdown begins and after a few seconds the unit is set, ready to alert if there's an issue. I opened the drawer in which I had placed it and immediately heard two beeps—one from the Puck and another from my cell phone with an alert that there was a vibration detected. When placed outdoors the Puck alerted me that there was a moisture problem. Ohio in July? You bet there's a humidity problem.